Mary&Mary develop a worldwide style influenced by ancient Arab Asian societies, blended with an attractive and European touch. Our brand stands for its unique and glamorous fashion styles. Nature is our first priority therefore we always use eco-friendly products and that's why we reduce our productions to minimize overproduction.
About Founder: Sandra Marienfeld is the designer behind Mary&Mary. Sandra is passionate about the Arab culture and Art and also a professional fashion designer. Because of her love towards culture you can see her designs always speak about the passion for different cultures.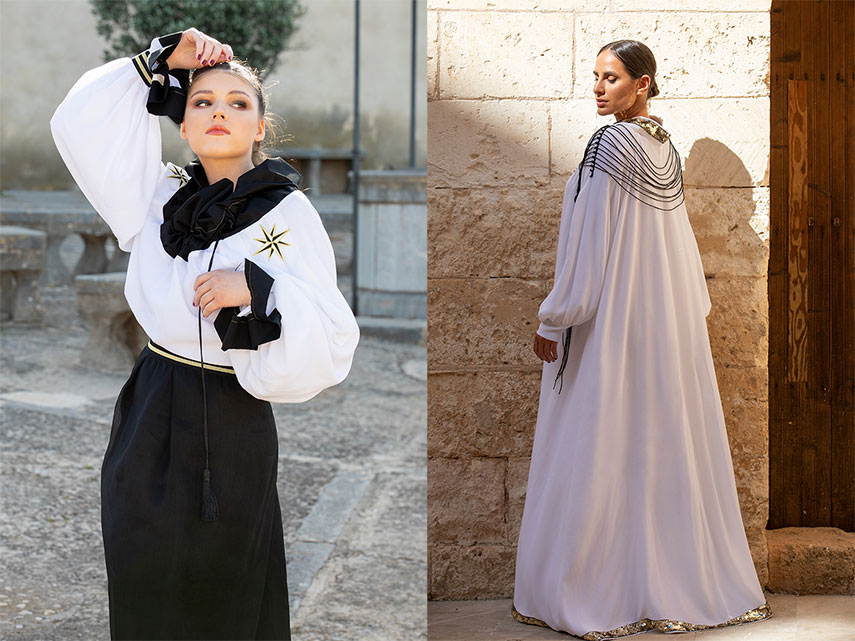 The Worlds Times: What is the story behind Mary&Mary?
Sandra Marienfeld: Already during my studies I connected with the Arab world. My final exams thesis at the German university was about "Contemporary Arab Art". Years later, we moved to the UAE and my understanding of Arab Culture and in Dubai the mix of all cultures completed my seeking. I found my clear vision and mission.
But I am not only an entrepreneur. I am actually a "mompreneur". Raising three kids it was always my dream to build a family business so I founded Mary&Mary with my daughter Ophelia (13 years) as my muse and face of the brand which gives the brand a true authenticity of our values. We want to inspire other women and young ladies to create something big, something new.
Our story was met with enthusiasm and we were invited to Fashion Shows to Italy (July2022) and New York Fashion Week (September 2022). We already found a distribution partner in New York, Dubai and a virtual one in Istanbul.
The Worlds Times:  How did you begin your career journey? Do you have some advice for beginners?
Sandra Marienfeld:  As an artist, I've always done a lot of creative work. I have painted, I made costumes, I sewed, experimented with fabrics etc.
The best ideas come when you just don't stop, but keep trying, try and error.
I guess you have to find your own way, between good advice, known methods and new ways. The hardest thing is that no one can tell you if it's right. Therefore it helps not to think in the categories of right and wrong. There is only the constant development and the own feeling thereby. You will then realize whether it is good or not.
The Worlds Times:  We saw you are a fashion designer. You create a new classic style which gives women the freedom to dress modestly and elegantly. What gives you inspiration for this?
Sandra Marienfeld:  I am fascinated by the versatile functions of fashion. It can be as simple as a shelter and glorious as the finest Art Piece. Furthermore, it supports identity, transforms the wearer and expresses the inner value of the wearer. It is one of the most important and most visible signs of culture.
Modest Fashion has fascinated me ever since. A woman should have the choice to choose how much she likes to cover her body, despite her faith, religion, age or culture. Modest Fashion with its loose fits holds also a key position in my thinking of sustainable fashion. I like that this is an attitude not a trend.
Moreover fashion or clothes is and always has been an important part of every culture in every decade. As a professional Art Historian and Archeologist I have been seeking the combining elements of culture and history ever since. As a fashion designer I transform the elements of culture into a new, embracing and unique fashion style.
The Worlds Times:  Have you had challenges in your career path? If so, how did you tackle them?
Sandra Marienfeld:  Yes, I had a lot of challenges.
Being a "mompreneur" my biggest challenge is to find the right way between motherhood and business woman. It is an everyday challenge like a scale which needs to be balanced. Sometimes the one side is heavier, sometimes the other one. It is my challenge to find my balance. No right or wrong, no one can tell you. But I need both.
The second big challenge is, to keep on focusing. Especially with a creative mind, I have so many ideas I want to realize, but I need to put them in a clear and strong order and keep the focus.
The Worlds Times:  What are your views on teamwork? Do you feel it's crucial for your business?
Sandra Marienfeld:  I love to work with other inspiring people. I am always interested in collaboration between the arts. Although it is not always easy to work with too many creative minds, communication is the key. I think the clearer someone can share their goals or wishes the better the others can react or act.
The Worlds Times:  Digitalization nowadays is being used by several businesses; do you think it's helping your company as well?
Sandra Marienfeld:  Yes it does. Especially along the supply chain. Even though I cannot use it completely, it makes the supply chain more transparent and faster.  Despite that, all the communication tools which appeared in the last years make it possible for me to connect with manufacturers, platforms, buyers or distribution partners.
Would you like to say anything else to our viewers?
The Worlds Times:  What are your career/company's services plans for the coming next 2 years?
Sandra Marienfeld:  My plans for the future are healthy business growth and success. I wish to reach out to all women who either wish to dress modestly and elegant or share the same values like me. My goal is to build Mary&Mary as No 1. Green Modest Fashion Brand.
Website: https://maryandmary.de/
Instagram: mary_and_mary_modest_fashion